Greenhill School is committed to safeguarding and promoting the welfare and safety of children and young people.
3 Sep Welcome back everyone!
1 Sep Dear Parents - just a reminder that the children return to school this Thursday, 3rd September. We look forward to seeing you all then!
1 Sep Training Day at Greenhill well under way with our fantastic staff! http://t.co/gpJq8pG5g3
30 Aug Hope you have all had a fabulous summer and are looking forward to the new school year. Remember pupils not in school until Thursday!
22 Jul RT @RecGuru1: @Greenhill_Sch guys, to build followers, you may want to have a chat with me as I can help out. #Justsaying
Latest News
In a wonderful end to a great sporting year for Greenhill our Y4s were crowned champions of Yorkshire at Headingley on Friday - winning the Drax Cup against the best 3 teams in the county.
The team had won through to the finals as champions of Sheffield and South Yorkshire from an entry of over 600 schools and were simply magnificent.
The Drax Cup is the biggest cricket competition for primary schools in in the country and we are immensely proud of our children who were presented the trophy by Ryan Sidebottom of Yorkshire and England.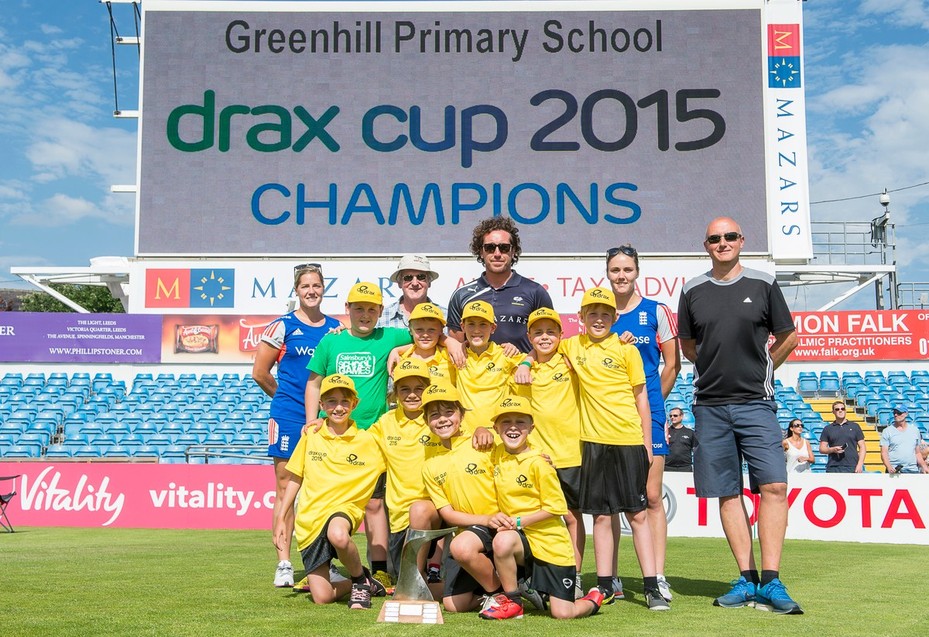 Help us win £5000 of National Book Tokens for the school library - and get £100 for yourself!
Latest Calendar Events
There are currently no events.
Calendars page(s): Calendar >>
Views of Parents/Carers about Greenhill
In April Ofsted launched Parent View, a 12-question online survey that gives parents an opportunity to give Ofsted their opinions on aspects of their child's school at any time, and in addition to expressing views during an inspection. Questions cover aspects of the school from the quality of teaching to dealing with bullying and poor behaviour. Ofsted will use the information provided when making decisions about which schools to inspect, and when. Parents will also be able to see what other parents have said about their child's school or about any school in England.You can log on and give your views about Greenhill at http://parentview.ofsted.gov.uk/
School can look at what you think and this will help us plan any improvements. This website isn't intended to replace school procedures, so if you have any concerns, complaints or even want to pay us a compliment please contact school in the usual way. All members of the Leadership Team operate an "open door" policy and teachers are available before and after school each day.
Thank you.
Comments (74)
Show Comments
Connor R
(about a month ago)
In y6 at the moment and about to move up to Meadowhead. Going to miss Greenhill been here for 7 years and have had a great experience.
Gordon Calvert, High View PLC
(about a month ago)
Congratulations and good luck in the Yorkshire finals. You were the best team on the day and played in the right spirit.
Catherine
(a couple of months ago)
It's been a long, long time since I went to Greenhill, I left in 2012, I'm in Year 9 now! from what I have seen and heard about it has changed a lot! I hope everyone is having fun, and that they are doing well in their classes! a big warm Hi from me to you! and a Hello to my Brother Christian ! Missing All the teachers and Hoping you Teachers are doing Great too! If it wasn't for you guys I wouldn't Be doing so well in my school now! Bye!
Chloe
(a couple of months ago)
I love this school it's so fun and there's a lot to learn
Darisha
(a couple of months ago)
Greenhill is the best school ever! I love to learn everything. Moving into y5 soon. So going to miss my teachers.
Ellie Patchett
(a couple of months ago)
used to go to Greenhill school a long time ago now! loved every minute of school when I was there! 2008! lovely school really miss my teachers. will have memories for ever and ever now. ellie :)
beth
(a couple of months ago)
amazing school
Tracey Luke
(less than a year ago)
Huge thank you to Mr James, Miss Crabtree and Miss Hurdley on an amazing choir performance. Greenhill shone. Ready for parent's choir
Isobel
(less than a year ago)
I cant wait to go to Edinburgh its gonna be soooooo much fun
lily
(less than a year ago)
i am very happy in my new class but i miss my freinds
Show More Comments