P.E. and Sport
In July 2018, for the fourth year running we were awarded the Sainsbury's Gold Mark for participation levels and inclusivity in school sport.
https://www.yourschoolgames.com/your_school/sainsburys-school-games-mark
Sport is a particular strength of our school and we have had many City, South Yorkshire and Yorkshire Champion teams. We are members of Forge School Sport Partnership as well as the Sheffield Federation for School Sport. In the past our school has been selected by the Federation as the outstanding primary school in Sheffield in recognition of our achievements.
The Federation noted our schools 'outstanding service to our pupils and local community'.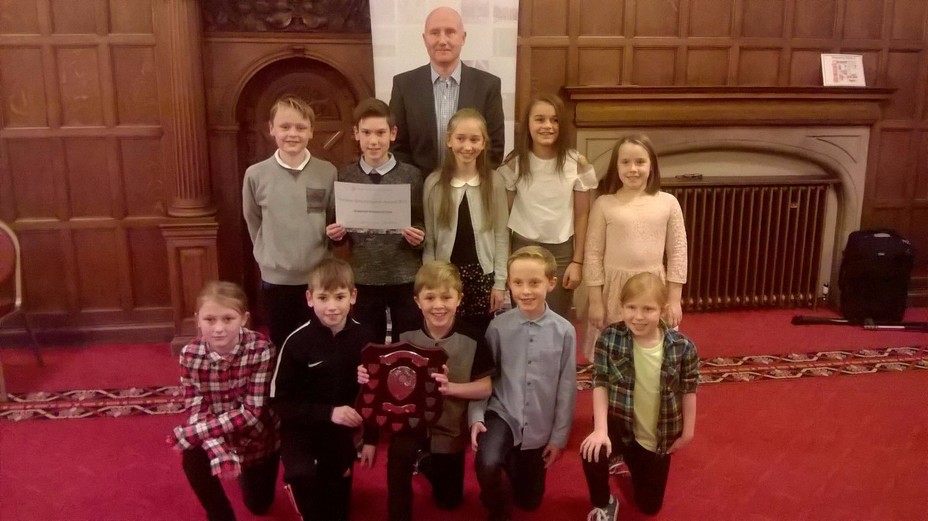 Our school has a very large playing field on which we are fortunate to have 2 full sized 7 a side football pitches and 2 cut cricket strips. We also have marked out in the summer months an athletics track. Our 2 indoor halls are both fully occupied with sporting activities and clubs every lunchtime and most days after school. Our teams have competed at test match cricket venues, professional football club grounds and training grounds and international swimming and athletics venues. Our representative teams are competitive and often excel in sporting tournaments. However, we recognise that competition is not for all our children and provide many sporting clubs and opportunities for them to take part in.
Through our membership of the Forge Sports Partnership we regularly compete in their organised events which are often held at the English Institute of Sport. Our football and cricket teams each year enter the Sheffield Federation for School Sports events.
School Sport Premium
The major outcome of this funding for us has been to create a new role of Curriculum Specialist for P.E. and Sport. The Curriculum Specialist works closely with the P.E. Co-ordinator and it is his job to both organise, by creating links with local sports clubs, and deliver high quality sporting coaching sessions. This has greatly extended the number and variety of sports clubs offered to our children and resulted in a large increase in participation. We are also using some of the school sport premium for staff training. To see a full breakdown of how the premium is being spent, click here.
PE Lessons
PE is for all at Greenhill and our curriculum encompasses this! It is an extensive curriculum where children learn to develop: fine and gross motor skills, co-ordination, co-operation and how to work as part of a team. The skills they develop can be transferred into gaming situations but also other curricular lessons. Children are taught and encouraged to follow a healthy and active lifestyle, our PE lessons give the children first-hand experience of this so they can continue this lifestyle outside of school. All year groups receive two hours a week of curricular PE where they cover aspects of dance, gymnastics, team games and athletics. Additionally children in Year 4 receive swimming lessons throughout the year. To see an overview of the P.E. curriculum, please click here.
Sporting Opportunities
Football
We run girls and boys teams from Y4 up to Y6 and play competitively against other schools in various league and cup competitions. The teams also play friendly matches throughout the season against other local schools.
Coaches from Sheffield Wednesday run after school and lunchtime training sessions at Greenhill school both for KS1 and KS2 children.
During the football season, we also take our children to SWFC for coaching sessions and to see 1st team games. Click here to read the latest news on our football teams.
Futsal
Chris Dolby of Sheffield FC has coached Futsal to our Key Stage 2 children and we compete in tournaments organised by the Forge Sports Partnership. Click here to read the latest news.
Cricket
We play competitive cricket in numerous competitions throughout the summer term. We have boys and girls teams from Y4 up to Y6. We have formed close links with Norton Woodseats CC and Sheffield Transport CC and our children receive coaching from these clubs. A highlight of our school year is always the Meadowhead Feeder School Competition for Y5 children. Click here to read more about our cricket teams. We are very proud to have had 5 Yorkshire Champion Teams and our girls have been County Champions for the last 3 years running.
Swimming
Children in Y5 have swimming lessons at Goodwin Sports Centre. The children are grouped according to swimming ability. Greenhill staff support trained swimming teachers and the children work towards the National Curriculum expectations for swimming and then beyond to develop further swimming skills and water safety practice and understanding. We also enter a team into the annual Sheffield schools swimming gala at Ponds Forge. Click here to see more.
Athletics
We have held an after school running club and have entered a cross country team in the SFSS Saturday morning league. We also enter a team into the SFSS Year 5/6 Primary Athletics event. Both Key stage 1 and Key stage 2 children take part in Sports Hall athletics at the English Institute of Sport. Click here to see more.
Table Tennis
We have held a table tennis club and have entered a team into the annual Sheffield Schools event at the English Institute of Sport. Click here to see more.
Trampolining
There is a trampolining club held every Monday lunchtime with Joanne Crowther.
Tennis
Coaches from Beauchief Tennis Club deliver tennis sessions to our children. Many of our children also play at the club in their own time.Our Y4 team have been City Champions for the past 3 years running. We also have strong links with Graves Tennis Centre and on Tuesday and Thursday afternoons some of our children attend extra coaching sessions there.
Click here to read more.
Badminton
Abbeydale Park Badminton Club have coached our Y5/6 children after school and our children have competed in SFSS organised events at Abbeydale Park Badminton Club. Click here to read the latest news.
Dance
We have offered Street Dance clubs at lunchtime to both Key Stage 1 and Key Stage 2 children. The same external provider also provided Glee and Cheerleading clubs throughout the term. Cheerleading will continue in 2018/19.
Gymnastics
We have a gymnastics club at lunchtime and compete in events against other schools organised by the Forge Sports Partnership. Click here to read more.
Thai Boxing
There is a Thai boxing club run by Muay Thai World Champion Boxer Lee Chesters on Thursday lunchtimes. The club is non-contact and focuses on character development and health and fitness with children not actually fighting.
Netball
We have held an after school netball club and have competed in events organised by the Forge Sports Partnership. Click here to read the latest news.
Rounders
In the summer term, we have previously held a rounders festival for the Meadowhead Feeder schools.
Boccia
We have previously entered an event organised by the Forge Sports Partnership in this sport that is often played by Paralympians.
Orienteering
We have previously run an orienteering club and entered an event organised by the Forge Sports Partnership.
Ultimate Frisbee
We have previously held an after school ultimate frisbee club and completed against other schools.